Conrad Anderson is a partner in the Birmingham office of Balch & Bingham LLP with more than a decade of experience in construction litigation and commercial and class action litigation. He is a tech-minded trial attorney who litigates all manners of construction and business disputes. A substantial portion of Conrad's practice is spent representing contractors and subcontractors in a variety of construction matters, including contract drafting and negotiation, payment disputes, bid protests, and insurance coverage issues. Conrad recently prevailed in an extensive arbitration proceeding concerning payments withheld for delay damages, and was also successful in defending a separate matter regarding construction defects. He also has significant experience in defending class action lawsuits, often on behalf of banks and other institutions in the financial industry.

Conrad is recognized as a "Rising Star Lawyer" by the Birmingham Business Journal, Benchmark Litigation and Super Lawyers. "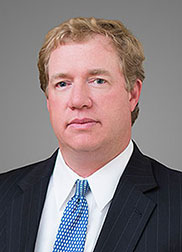 Charles A. Burkhart is a partner in the law firm of Balch & Bingham LLP. For the past 20 years, Chuck has focused his practice on construction litigation, and the defense and trial of catastrophic product liability and electrical injury and death claims. Over the past decade, Chuck has negotiated and drafted over $650 million in construction contracts across the U.S. and has represented one of the nation's top student housing development and construction companies.

He has developed a national construction practice in which he represents owners, architects, general contractors, and subcontractors on claims ranging from mechanics liens, the drafting and negotiation of high-value construction contracts, to the litigation of highly complex nuclear energy construction disputes, most recently defending claims against a major electrical utility on arguably the largest construction project ongoing in the United States.

Chuck chairs the firm's Product Liability and Casualty Practice Group, and his practice includes the defense of over-the-road trucking accidents, industrial equipment manufacturers, and adulterated food claims for national food manufacturers and retailers.

In addition to first-chairing the defense of approximately 300 underground mining claims and several related jury trials, Chuck has developed two decades of expertise in the defense and trial of electrical contact and electrocution cases.